PrideMART Vendor Listing
See below for site map.
*subject to change

| | |
| --- | --- |
| Space # | Organization |
| 1 | Sparkle Girls |
| 2 | Jangle Sisters |
| 3 | Willow Place |
| 4 | African Pot |
| 5 | Canadian Mental Health Association |
| 6 | Potty Mouth Pottery |
| 7 | Motio Massage |
| 8 | CIBC |
| 9 | Noble & Whimsical |
| 10 | Abandoned Warehouse |
| 11 | Centre for Gender and Sexual Diversity |
| 12 | Nine Circles |
| 13 | African Imports |
| 14 | Leggings Den |
| 15 | Pure Romance |
| 16 | Character Co |
| 17 | Icando Soaps & More |
| 18 | Henna Tattoos |
| 19 | Winnipeg Centre Liberals |
| 20 | Speakfree Media |
| 21 | Velocity Jewellery |
| 22 | Arnold Brothers (Sunday) |
| 23 | CUPE |
| 24 | Blue Danube |
| 25 | Aeonian Revolution |
| 26 | University of Winnipeg |
| 27 | Little Brown Jug |
| 28 | Clowns, Magicians & More |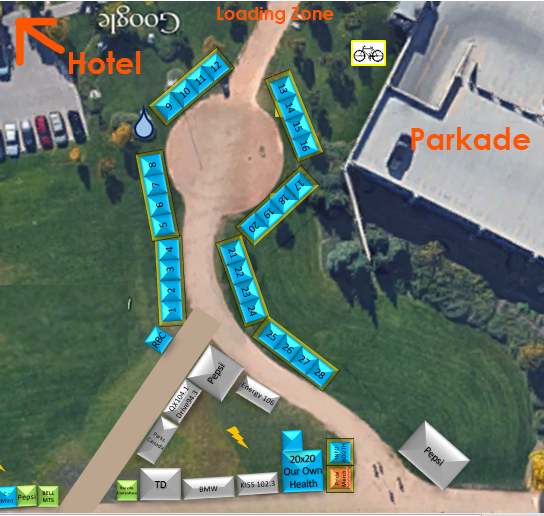 Expectations
Please consider the environment. Avoid handing out mass brochures that will simply end up on the ground, instead offer a branded promotional item with minimal packaging.
Avoid handing out condoms on their own, since many end up on the ground. Consider putting together a kit that includes a number of useful items.
Your booth is 10' x 10' and includes two 30" x 96″ tables and two chairs. Electrical or water hook-ups are not available.
Keep in mind that Pride is a family event. So please avoid any offensive or inappropriate display items or material.
PrideMART is open from 12:30 PM until 5:00 PM on both Saturday and Sunday. We ask that all exhibitors be set up by 12:00 PM. Any vacant spots may be given away at that time. Any materials or displays left at 9:00 PM on Sunday will be generously donated to a local dumpster. (Our cost for cleaning up after you is $50/hour.)
If you require vehicle access to your booth, please email us at pridemart@mb-lgbt.biz to schedule a time for your setup and take down. Vehicles are not permitted on the festival grounds otherwise.
We want to keep PrideMART enjoyable for all our visitors and exhibitors. Therefore, we reserve the right to request any exhibitor to remove anything we deem inappropriate. We also reserve the right to expel any exhibitors who choose to ignore any of our suggestions above.
We hope that all of our exhibitors are able to attend. But if something comes up, we can cancel your spot for a partial refund prior to May 31. After that, we will not be able to process refunds.
For any questions about PrideMART contact pridemart@mb-lgbt.biz