Award Winners 2016
Read about our amazing recipients of the 2016 Manitoba LGBT* Chamber of Commerce Awards
The Manitoba LGBT* Chamber of Commerce presented its annual Chamber Awards on Thursday, November 24, 2016. This year's awards were sponsored by Aboriginal Peoples' Television Network, with additional support from Red River College, Travel Manitoba, RBC and Homewood Suites by Hilton.
An important way that the Chamber contributes to and promotes our vibrant and diverse economy is by seeking nominations and recognizing those who have made incredible contributions through our annual awards. Receiving a nomination is further proof of the great work that individuals and organizations are doing in the LGBT and business communities in Manitoba.
This year our awards selection committee was made of some previous years' award winners and some members of the Chamber Board and they found it very difficult to select just one recipient for each award.
Below are the 2016 Chamber Award Recipients.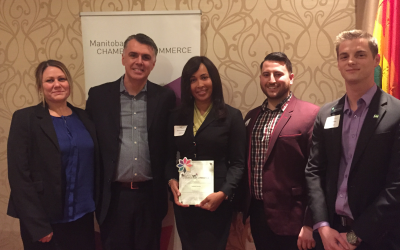 TD Bank Group TD Bank has been a key sponsor for Pride Winnipeg since 2010. Without TD's support the Pride Festival simply couldn't happen as the funding helps secure everything from tents to talent. TD is also involved with over 100 other LGBTTQ* organizations and...
read more